IMCO - Austria
Probably the oldest cigarette lighter manufacturer around.
Originally this company manufactured buttons.
In 1918, after the first world war, they switched to making lighters from spent ammunition shells.
"IMCO®, the World's Supreme Lighter since 1918!"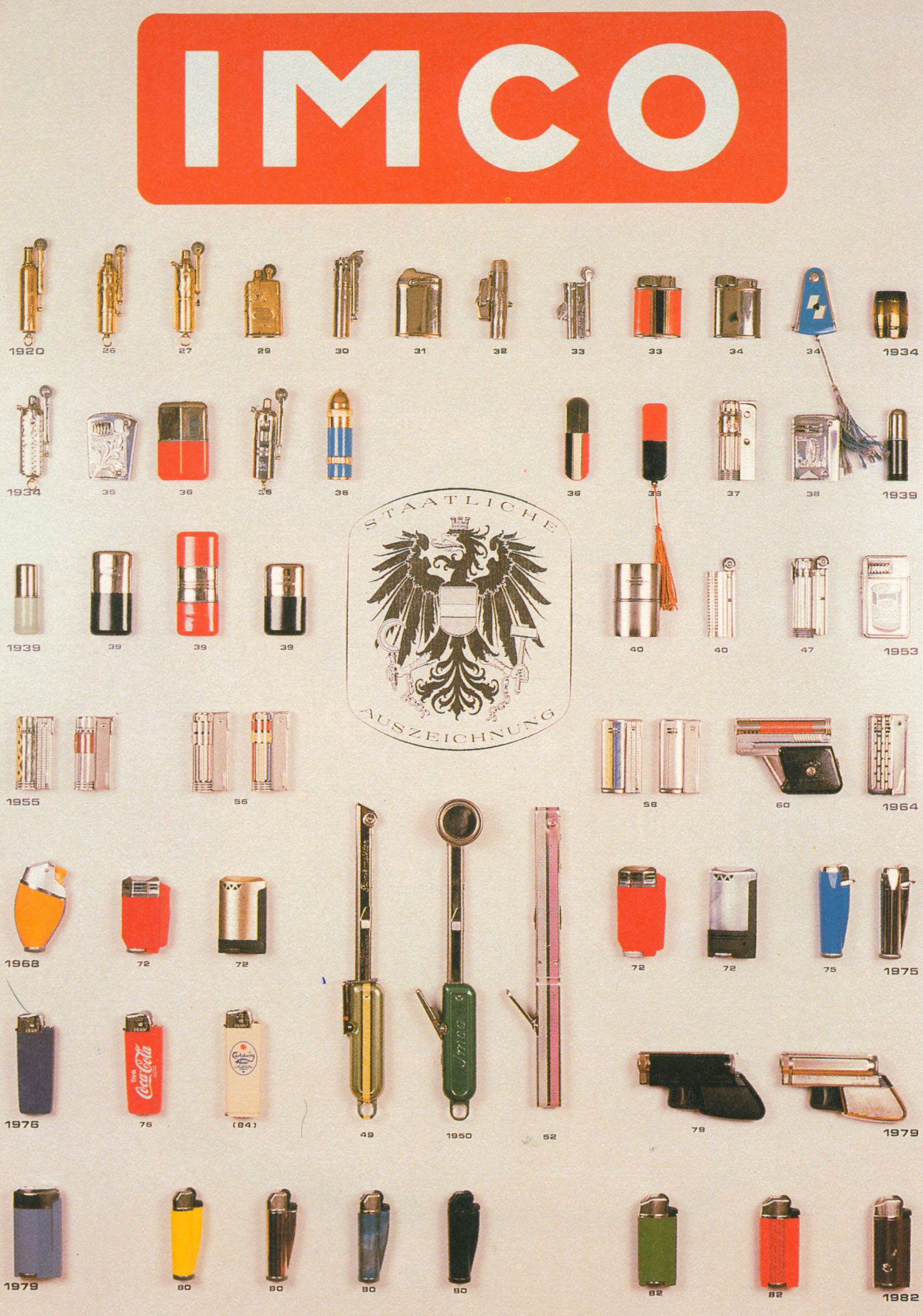 IMCO Safety 4200
produced in 1935




The G-11, 1956

Windproof IMCO® Lighters model Triplex Super


In its present form, the Triplex Super 6700 with 10-year warranty
has been on the market since the fifties.

Triplex Super model "petrol Lighters" use liquid fuel (Naphta) to create a no-fail windproof flame.
Handy swing-open ignition. Once used, the small "tank" with burning wick can be removed and refilled.

Replacement whick and flints package.




The GunLite 6900, 1960

The GunLite G68-R , 1978

IMCO - Austria_USPat. 3617160




IMCO - Austria_USPat. 4340356

Slimline Junior


IMCO also makes pipe lighters and is still in operation today.

IMCO - Austria

Check out their website, click here:
http://www.imco.at/

World War II Foxhole and Blackout Lighter By Imco

Circa: 1940's

Cardboard printed wood grain box. Box measures 3 3/4" by 1 1/8" by 1 3/4".
Overall color of box is a light brown with red lettering on both top and bottom.
Top reads: "Fox Hole Lighter Reg. U.S. Patent No. 407,068 Made By Imco".
On one end of the slide-through box is printed in red,
"The Imco Co. 45 West 16th Street New York, N.Y."
Other end is printed "For Best Results, Use Only Imco Reserve Wick-Spark Flints."
Body of the lighter is 2 1/2" long and 3/4" wide.
Lighter comes with two extra unused white rope wicks, spare flint spring, and extra flints
in a small glass vial with cork stopper.
One side of the lighter reads: Imco's Made In U.S.A.

.


Sterling Silver - Made in Canada

Wind-King Lighter

Early 1940's
'Chromium Foxhole lighter'
Made by Myron Gray, New York, N.Y.
Box includes lighter, two extra wicks and 15 flints.

DIRECTIONS : The WIND-KING lighter needs no fuel-
it is the wick that burns! All you have to do is to char the top of
a new wick once by applying a match to it.
After that, all that is necessary is to raise the wick within
range of the spark wheel-about 1/4 of an inch-and turn
the spark wheel. Presto! It ignites. To extinguish, pull the
wick down thus cutting off the air, and the wick ceases to burn.

---