In 1994 the Haight Ashbury Free Press was re-born,
thanks to Editor/Publisher David Hoffman.
We beautified the City (and later the Bay Area) with our
colorfully painted, one of a kind sales racks... Here are the first 4
(painted by yourstruly) .....
| | |
| --- | --- |
| "Egyptian" | "Flying Saucers" |
| "Rain Forest" | "San Francisco/Haight~Ashbury" |
Later many more artists contributed their talents and our racks were
just everywhere to be enjoyed by everyone.......
---
My contribution for the first issue was the center-page spread,
illustrating a poem by Allen Cohen called Mystic Moment.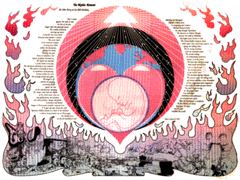 ---

With the 4th issue I assumed the Art Director's job, which I still hold today, ...unfotunately the Newspaper
went out of print in 1996, after 11 issues. At the same time it was transfered to the Internet where it survived
without commercial sponsorship until 2001. Unfortunately, the website is temporarily down!
ORIGINAL PRINT BACK ISSUES ARE STILL AVAILABLE
email for pricing information


---
BACK