Some of my designs in the vein of what I call "Grateful Art", done by the artists that created psychedelic posters
for the Avalon and Fillmore ballrooms, album covers for the Grateful Dead, Underground Comix, etc.... people like
Stanley Mouse, Anton Kelly, Victor Moscoso, Rick Griffin, 'Spain' Rodriguez and Robert Crumb (just to mention a few).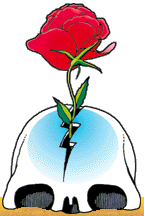 Particularly, the combination of roses and skulls, potent symbols of life and death, has always interested me.
---

"Peace" 1982
---

"Dancing skeletons" 1983
---

"Skeleton Guitarist" 1984
---

"Dead by the bay" 1985..........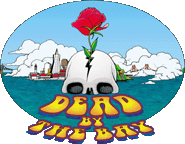 1994....................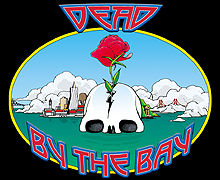 2003
---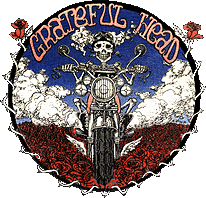 "Grateful Head" 1982 . . . . . .
."Skeleton Biker" 2003

---
All Artwork: John Flores © 2003
May Not be Reproduced
BACK to welcome page
---