GREETINGS
AND WELCOME TO THE HOMEPAGES OF:
~ K & Q _STICKERS ~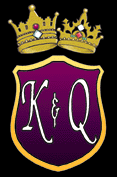 INTRODUCING

For the new Millennium, a line of Fascinating Art Stickers,
with original artwork by renowned artist John Flores.

From Fish and Marine life, to Dragons, Sci-Fi Pinups, San Francisco &
Haight Ashbury Iconography and much, much more...
All original artwork by John Flores, beautifully
reproduced by means of 4 color process flexography screenprinting
onto holographic poly film with adhesive backing, using UV treated inks.
Laminated for extra durability, weather and scratch resistance.
Back scored for easy peeling.

A line within a line, our Aquatic Division



is our exclusive line of stickers for the recreational diver & diving related world,
as well as for lovers of marine life the world over.
K & Q Stickers is a Unique line of designs in two sizes
3.5" x 3.5" (square), & 3.5" x 6.5" (rectangle).

Image Galleries: Aquatic Division ; Dragons ;
San Francisco / Haight Ashbury ;
Order Form ; Price List ; Contact us ;

---
All images shown are copyrighted and property
of K & Q Stickers and John Flores Graphics.
---